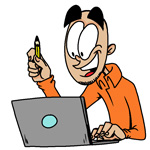 My name is Khalid (pronounced KHA-leed) Birdsong.  I'm your friendly neighborhood creative freelance Content Marketing Copywriter!
The AWAI (American Writers and Artists) training program helped my writing skills grow immensely.  Thanks to their courses, I feel more prepared than the majority of copywriter's out there.  Whether it's a case study for a healthcare company or an article for a self-help blog, you can trust I'll deliver a quality product.
I have a growth mindset, and I believe that, with focused effort, we have the power to train ourselves to become strong, healthy, prosperous and more creative human beings over time.
The many hats I have worn that I can bring to your business, include over fifteen years as an Art teacher to children and adults.  I'm an expert in breaking down complex techniques and inspiring my students to unleash their creativity. During my year's teaching, my skills improved through working on freelance illustration and cartooning projects for businesses and publishing companies.
My mind is open to the world by living in several countries outside of the U.S. including Germany and Japan. One of the many things I learned from my travels is the importance of strong connections with people. Even if they're different from you, respect and care for others go a long way.  In life as well as in business.
Writing is an art. I am already a dependable, creative and experienced artist and creative writer. Contact me today with your case study, comic strip style marketing, email campaign or content projects and let's talk.
If you want a peek into my cartooning life you can read my syndicated comic strip based on my years living in Japan at www.friedchickenandsushi.com.
I'm looking forward to working with you!